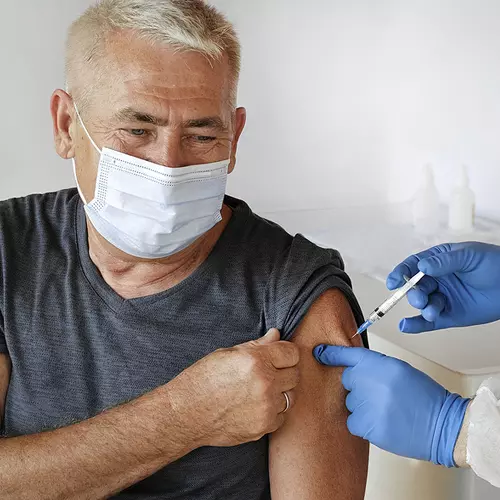 VACCINES

We are your local vaccine provider for seasonal flu shots, Covid-19 vaccines and Covid-19 boosters plus shingles and pneumonia shots.

One of the easiest ways we can protect ourselves and our children is to stay up to date on our vaccines. Vaccines can prevent up to three million deaths worldwide every year.
How do vaccines work?

Infectious diseases are spread from one person to another. Usually through viruses or bacteria that from here on out we'll call a bug. Once in your body the bug will reproduce, probably make you sick and then spread to other people. The first time you get sick with this particular bug, your immune system swings in to action making antibodies that work to destroy it. Your amazing body saves copies of the antibodies so if you catch that particular bug again, it's easier to fight it off. That's how we develop immunity and it's why a person who has already been sick with a particular disease usually won't get it again.

Vaccines help our body's develop immunity and help prevent serious illness without actually being exposed to the real virus or bacteria. You can't catch the disease from the vaccine, but your immune system reacts to the vaccine the same way making antibodies just like it would if it ran into the real virus or bacteria. The difference being you don't get sick and can't spread the disease to anyone else. When you get vaccinated and stay up to date with your vaccines you help your whole community through "herd immunity".

Sometimes vaccines can cause mild side effects and you may have a sore arm for a day or two. It's rare for anyone to have a serious allergic reaction to a vaccination. If this does happen, it usually happens within minutes.

Types of Vaccines offered at Union Prescription Center and Medical Supplies

A) Influenza (Flu Vaccine) – The flu is a potentially serious disease that can lead to hospitalization and sometimes death. Every flu season is different. Flu can mean a few days of feeling bad and missing work or it can result in more serious illness. Complications of flu can include bacterial pneumonia, ear infections, sinus infections and worsening of chronic medical conditions, like congestive heart failure, asthma, or diabetes. An annual seasonal flu vaccine is the best way to help protect against flu. Vaccination has been shown to have many benefits including reducing the risk of flu illnesses, hospitalizations and even the risk of flu-related death in children. While some people who get a flu vaccine may still get sick, flu vaccination has been shown in several studies to reduce severity of illness.

B) COVID-19 vaccine including Pfizer, Moderna, and Johnson & Johnson

C) COVID-19 boosters including Pfizer, Moderna, and Johnson & Johnson

There are currently three COVID-19 vaccines available for use in the United States. Healthy adults have the option of receiving any of these three vaccines. (The CDC recommends COVID-19 vaccines for everyone 6 months and older and boosters for everyone 5 years and older, if eligible). All three of these vaccines are safe and effective in protecting you from COVID-19, particularly when it comes to hospitalization and death.

The CDC is closely monitoring the spread of Covid-19 and all of its variants. Their recommendations for vaccine administration is evolving along with the virus. Ask your pharmacist to make sure you are up to date on your vaccines. No matter where you received your first dose(s), you can still check your status with any pharmacy as we have access to the state data base which shows all your vaccinations. COVID-19 vaccine is free of charge for everyone.

D) Pneumococcal (pneumonia) vaccine:

Older adults are at greatest risk of serious illness and death due to pneumococcal disease. In the United States, there are 2 kinds of vaccines that help prevent pneumococcal disease Pneumococcal conjugate vaccines (PCV13, PCV15, and PCV20) Pneumococcal polysaccharide vaccine (PPSV23)

CDC recommends pneumococcal vaccination for all children younger than 2 years old and all adults 65 years or older. In certain situations, older children and other adults should also get pneumococcal vaccines. Below is more information about who should and should not get each type of pneumococcal vaccine.
Talk to your or your child's doctor about what is best for your specific situation.

E) Shingles vaccine

CDC recommends that adults 50 years and older get two doses of the shingles vaccine called Shingrix to prevent shingles and complications from shingles. Adults 19 years and older who have weakened immune systems because of disease or therapy should also get two doses of Shingrix, as they have a higher risk of getting shingles and related complications.

Your pharmacist can give you Shingrix as a shot in your upper arm.
You should get Shingrix even if in the past you:
Had shingles
Received Zostavax*
Received varicella (chickenpox) vaccine
There is no maximum age for getting Shingrix.

If you had shingles in the past, Shingrix can help prevent future occurrences of the disease. There is no specific length of time that you need to wait after having shingles before you can receive Shingrix, but generally you should make sure the shingles rash has gone away before getting vaccinated.

If you have questions on vaccines or if you need to know the status of your vaccinations, even if you did not receive all your vaccinations here at Union Prescription Center, we can access the state data base to see all your vaccination records.

Vaccines are as important to your overall health as diet and exercise. Vaccines play a vital role in keeping you healthy. Vaccines are one of the most convenient and safest preventive care measures available.

*Zostavax is no longer available for use in the United States, as of November 18, 2020