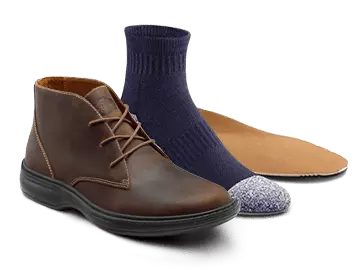 DIABETIC SHOES
The Medicare Therapeutic Shoe Program began in 1994. It was created to reduce the frequency of diabetic foot ulcers and to help prevent lower limb amputations in high-risk patients by providing at-risk patients with one pair of custom diabetic shoes plus three pairs of custom molded inserts per year.

Union Prescription Center is licensed and accredited to fit and bill Medicare for diabetic shoes and custom inserts. Diabetic shoes offer the ultimate comfort, support and protection for diabetic feet. We carry some of the most popular brands like Dr. Comfort, Propet, Orthofeet, Anodyne and I Runner just to name a few.
Constructed with high-quality material and functional design, diabetic shoes will help prevent skin irritation and discomfort. Each shoe has protective interior padding with foam to eliminate pressure points and friction against your skin. Your professionally fit diabetic shoes will come with three pair of premium custom insoles. These premium insoles provide arch support, control over pronation and help to reduce pressure on the bottom of the foot. The uppers offer just the right stretch to form to the shape of the foot. Some styles of diabetic shoes offer a wide toe box and extra depth for a custom insole fit that adds extra room for bunions and toes. The ergonomic soles finish up the diabetic shoe and have a mild rocker shape and superior cushioning to help propel the foot forward. Diabetic shoes provide superior enhanced comfort and protection from heel to toe.

Medicare will pay for one pair of diabetic shoes and three pairs of custom inserts every calendar year for diabetic patients with secondary foot conditions. Diabetic shoes provide a comfortable, custom fit that promotes the overall health of the foot. We have an on staff professionally trained certified pedorthist. If needed, our certified pedorthist can also schedule a visit to your adult foster care home or assisted living facility to fit residents for shoes. For your convenience, we can help you manage the entire process from start to finish; obtaining the prescription, measuring and assessing the foot, customizing the inserts to ensure a proper fit, and billing the insurance company.

We work with over five different diabetic shoe companies with many styles to choose from including easy lace styles, and extra-wide options. The diabetic shoe of today looks much like any other shoe, we can help make living with diabetes more manageable while still staying stylish. Find the shoe that works for you, whether you're looking for an athletic shoe or dress shoe. We're sure to find a shoe that meets any requirements your feet may need.

Who is eligible for the Medicare diabetic shoe program?
Anyone who has diabetes and one or more of the following diabetic foot problems:
History of partial or complete foot amputation
History of previous foot ulceration
History of pre-ulcerative callus
Peripheral neuropathy with evidence of callus formation
Foot deformity
Poor circulation

What does Medicare cover?
If eligible, Medicare (and most private insurances) will provide one pair of extra-depth shoes and three pairs of custom inserts/insoles each calendar year.
Medicare Part B covers 80% of the approved cost of the shoes and shoe inserts. Many secondary insurances cover the remaining 20%.

Tips for healthy happy diabetic feet:
Inspect your feet daily. Check for cuts, blisters, redness, and swelling or nail problems. Use a magnifying hand mirror to look at the bottom of your feet. Call your doctor if you notice anything.

Bathe feet in lukewarm, never hot, water. Keep your feet clean by washing them daily. Use only lukewarm water—the temperature you would use on a newborn baby. Be gentle when bathing your feet. Wash them using a soft washcloth or sponge. Dry by blotting or patting and carefully dry between the toes.

Moisturize your feet but not between your toes. Use a moisturizer daily to keep dry skin from itching or cracking. But don't moisturize between the toes—that could encourage a fungal infection.

Cut nails carefully. Cut them straight across and file the edges. Don't cut nails too short, as this could lead to ingrown toenails. If you have concerns about your nails, consult your doctor. Never treat corns or calluses yourself. No "bathroom surgery" or medicated pads. Visit your doctor for appropriate treatment.
Wear clean, dry socks. Change them daily.

Consider socks made specifically for patients living with diabetes. These socks have extra cushioning, do not have elastic tops, are higher than the ankle and are made from fibers that wick moisture away from the skin.

Wear socks to bed. If your feet get cold at night, wear socks. Never use a heating pad or a hot water bottle.
Shake out your shoes and feel the inside before wearing. Remember, your feet may not be able to feel a pebble or other foreign object, so always inspect your shoes before putting them on.
Keep your feet warm and dry. Don't let your feet get wet in snow or rain. Wear warm socks and shoes in winter.

Consider using an antiperspirant on the soles of your feet. This is helpful if you have excessive sweating of the feet.

Never walk barefoot. Not even at home! Always wear shoes or slippers. You could step on something and get a scratch or cut. Take care of your diabetes. Keep your blood sugar levels under control. Do not smoke. Smoking restricts blood flow in your feet. Get periodic foot exams. Seeing your doctor or nurse practitioner on a regular basis can help prevent the foot complications of diabetes.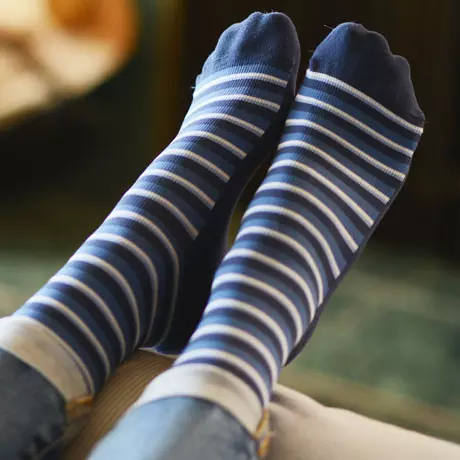 Diabetic Socks
We carry a variety of diabetic socks at good prices. An important part of diabetic foot care and diabetes management, diabetic socks are made to keep feet dry, to reduce the risk of foot injury and enhance blood circulation. Of course not everyone with diabetes needs diabetic socks. Diabetics advised to wear diabetic socks are those who have had changes in the color or temperature of the skin on their feet. Have had any nerve damage, blisters, cuts, infections or irritations.
Those that have sweaty feet. And those that have been told they have a decreased pulse in the top of their foot or around the back of their ankle.
Diabetic socks address foot issues that sometimes accompany diabetes? . Most diabetic socks are made of moisture-wicking material, bamboo or wool and some are made with copper- or silver-infused yarn.
Moisture wicking material will pull moisture away from the foot allowing sweat to evaporate and help to lower the risk of fungal infections. Acrylic fibers do a better job than cotton for moisture-wicking. Bamboo and wool, both have natural antimicrobial properties while those with copper or silver have been shown to have anti-fungal properties. Typically diabetic socks are made without seams to reduce the risk of rubbing. Rubbing can lead to blisters and sores that can especially dangerous for someone with neuropathy or chronic hyperglycemia. It is good to mention that white socks can help to reveal draining of any wounds that may not be felt.

Diabetic socks should also have Non-Elastic Binding. They should stay up without being too tight restricting blood flow.

Extra padding can also be a plus for those that stand for long periods of time, are very active or enjoy sports.

Diabetic socks can be worn daily and washed frequently. Most will last around six months with regular wear and proper care. To increase their longevity, wash socks in a mesh undergarment bag in the washing machine and dry them on low heat. Use a sweater comb or shaver to remove fabric pills.

On Staff Certified Pedorthist: Amy Stevens